Going back to school might look...a little different this year. For some, it might look like proctoring hours of zoom classes a day, making sure your kid pays attention to their teacher on screen, while also trying to work from home. You can handle two jobs at once, right? For others, it might look like your kitchen turning into the new cafeteria, serving three meals a day with snacks and desserts in between. For most, though, it probably looks like both. No matter how our normal routines have changed over the past few months, kid-friendly meals that don't compromise health are important, now more than ever.
Still, finding those healthy back-to-school lunch (or dinner) recipes that kids will actually eat is... a challenge. Some things never change, and keeping the back-to-school spirit alive is tougher than ever, so we've rounded up some A+ lunch ideas that are kid-tested, and parent-approved. Parents, you have enough on your plate. Let us handle what's on theirs.
For those without little ones, these recipes are tried and true for the "inner child" within you, too. Cause let's face it, who doesn't still order from the kids menu or buy dinosaur nuggets from time to time?
Class is in session!
Meal Idea 1: Pizza & Veggies
You want them to eat more veggies. They just want more pizza. What if we told you: pizza IS a vegetable! Try pairing our gluten-free (always!) CAULIPOWER Turkey Pepperoni Pizza, featuring our signature cauliflower crust, with a side of zucchini, carrot, and celery sticks (or any veggies you want or need to get rid of). You don't need an algebra class to do this easy math: that's DOUBLE the amount of vegetables than normal pizza and fries. MINUS the nitrates, artificial preservatives, and less than HALF the amount of sugar than other leading pizza brands. Wash it down with some refreshing grape juice (or juice of choice) and get ready to hit the books.



Meal Idea 2: Mac n Cheese and (Baked) Chicken Tendies

You're never too old to love mac and cheese. It's the ultimate comfort food for kids and adults alike. And we could all use a little extra comfort these days. Even if you're going with the boxed kind, which we all know kids love, our baked (never fried) chicken tenders - with zero added sugar and a whopping 14g of protein per serving - help make this a nutritious meal, while still being an undeniably kid-friendly dinner. It's sure to put a smile on their face when the lunch bell rings. Or when the ZOOM class ends. Or when you're tired of homeschooling and need to distract your "student." Throw in apple sauce and a fruit cup and you have yourself a balanced, healthy back to school lunch idea.



Meal Idea 3: QuesaDEALing With Quarantine/ZOOM School/Homeschool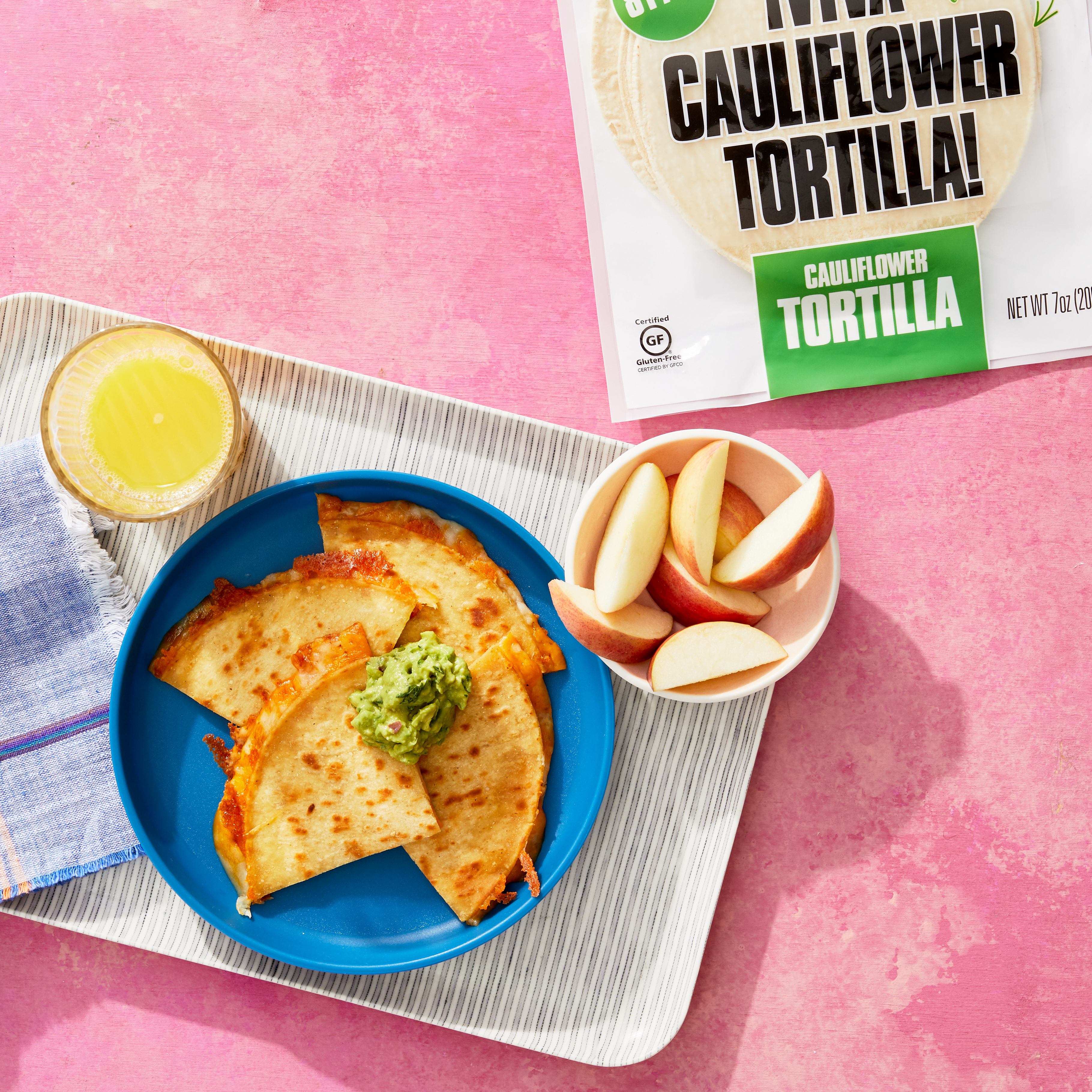 Not only are these beloved finger foods an easy back-to-school snack, they're also packed with nutrients. At least they are when you make them with our CAULIPOWER Cauliflower Tortillas, which are ready in less than 1 minute in your microwave or skillet (hellooooo perfect spur of the moment snack idea). And even though you've already snuck in a vegetable with our tortillas, why stop there? You can hide plenty of other vegetables, like spinach, sweet potatoes, carrots (really, anything that can be pureed) in there too. The kids will be so mesmerized by the gooey, melty cheese, they won't know what vitamins hit 'em. You can pair this delicioso "Mexican-style grilled cheese" with apple slices and OJ to complete the meal. Even top it with guac if you're kid isn't afraid of anything green!
With all the changes to our normal routines, we hope these healthy back-to-school lunch ideas make planning just a little bit easier, and help you get excited about the new school year.
Aaaaand that's the lunch bell! Dig in!