Day one-hundred-and-something of quarantine. We made it through the 'Banana Bread' phase, the 'Sourdough' phase...and even the 'Whipped Coffee' phase. But after months of cooking three meals a day, staring blankly into the fridge, and saving recipes on Pinterest that we knew we'd never make...there are still those three little words that continue to haunt us. What's. For. Dinner?!
We knew we weren't alone, so we conducted a survey of 4,000 Americans to find out how folks were really feeling about their never-ending moments in the kitchen.
Turns out, we were right. 47% of Americans say the most difficult part of cooking in quarantine is finding healthy meals that taste good and are easy to make, while 44% say it's avoiding recipe burnout.
And what about those "quarantine trends" like sourdough or banana bread? OVER IT! 94% of respondents said they wish they had something better - tastier, healthier, and easier to make. We asked what they would be willing to give up for a week in exchange for these Meal Hackᵀᴹ solutions, and the results are in…

It's clear. We have officially entered the 'Sick Of My Own Cooking' phase of quarantine.
The good news? CAULIPOWER's got you. With healthier versions of the food you crave - like pizza and chicken tenders - you can have tasty, nutritious meals ready at the speed of life. From America's #1 cauliflower crust to the first-ever single ingredient bread replacement, we take the headache out of cooking breakfast, lunch, and dinner.
To make things even easier for you, we created The 'Sick Of My Own Cooking' Box. Yup. We're serious!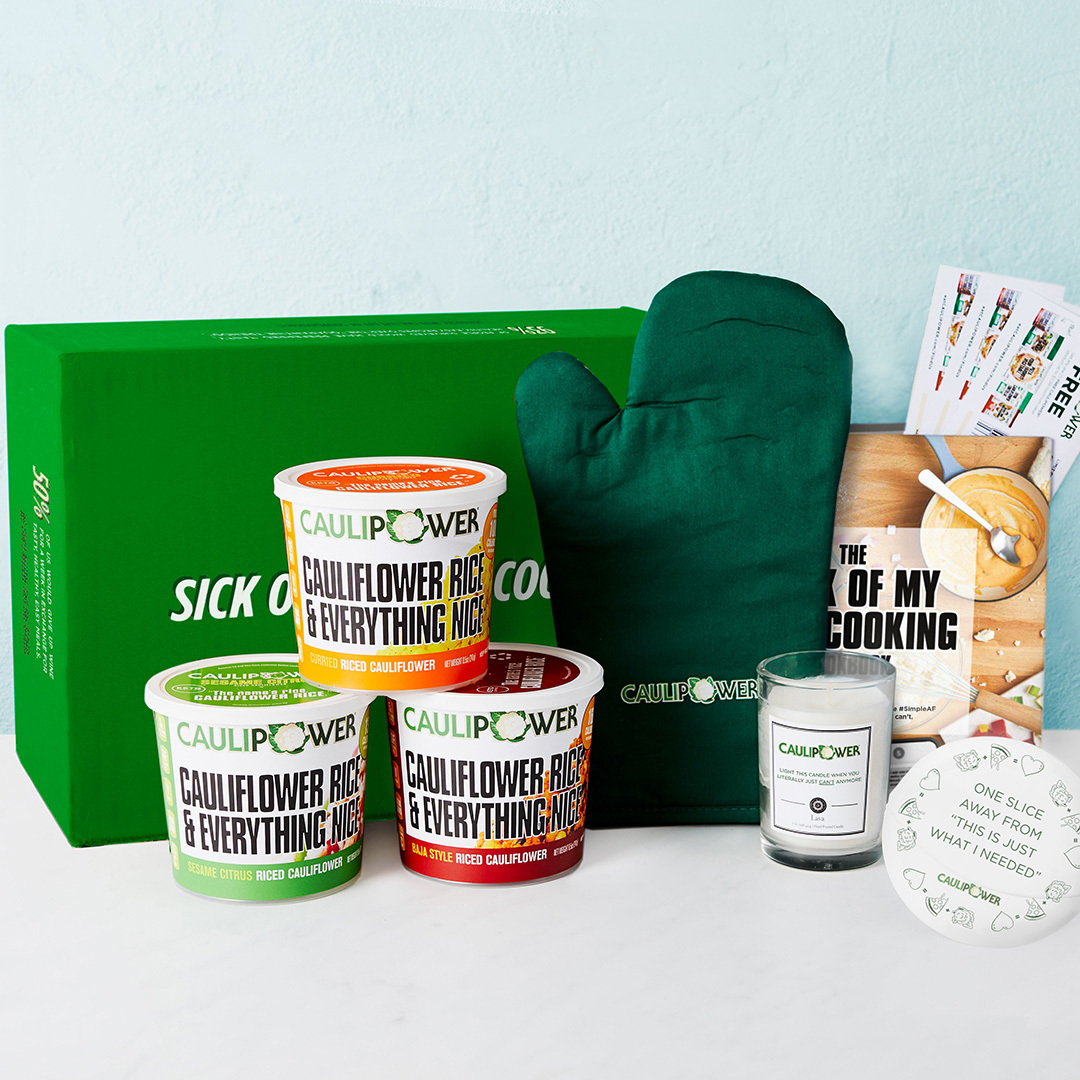 We've only made 500 of these exclusive boxes that include:

Three (3) of CAULIPOWER's NEW Riced Cauliflower cups – bursting with never-before-done flavors
Three (3) FREE VIP CAULIPOWER coupons (yes – FREE!) good for any of the brand's products
The 'Sick Of My Own Cooking' Cookbook, with #SimpleAF recipes inspired by CAULIPOWER consumers
An exclusive CAULIPOWER oven mitt and pizza cutter
A dreamy candle to keep you Zen after making your 714th meal
Yup. You read that right. We created a COOKBOOK! And not just any cookbook. A quarantine cookbook. The chapters are ordered by #QuarantineMood, ranging from "For When You Literally Just Can't" to "For When You Want To Cook...But Not Really.". No matter which section you land on, you can rest assured there's a tasty, healthy, #SimpleAF recipe with your name on it. Plus, the level of recipe difficulty ranges from "Easy" to "Easy(ish)" so if you're looking to make an apple pie for the holidays without spending hours in the kitchen, just turn to page 84.
The best news? The 'Sick Of My Own Cooking' Box is FREE! All you have to pay for is frozen shipping. So, what are you waiting for? GET IT HERE NOW!